Welcome to our 20th Season!
Thanks to your support we have lasted 20 years. The Indy Acoustic Cafe Series began in 1996 with the purpose of bringing the best nationally and internationally known singer songwriters specializing in Folk, Americana and Blues in an acoustically perfect environment, a true listening room. This is the very first music series of it's kind in Indianapolis giving musicians of the highest caliber the opportunity to play in Indianapolis while passing through the Midwest. I hope you're able to check out the series and discover new and talented musicians from across the country.

Mark
Now Purchase Tickets ONLINE.
Visit the Tickets Page to see how.
---
---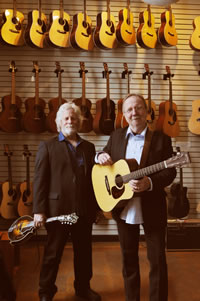 Chris Hillman and Herb Perdersen - April 9, 2016
Chris Hillman is a musical Icon. He has written so many songs and been a part of so many historical bands, there is just no way to mention them all here. Bands such as The Byrds; Souther Hillman Furay; Flying Burrito Brothers; Manassas; Desert Rose Band and the list goes on. He's played with Roger McQuinn, Richie Furay, Bernie Leadon, Gram Parsons, Herb Pedersen, Dan Fogelberg, Stephen Stills, EmmyLou Harris and again…the list goes on of a "Who's Who" in the music biz. Just go to his website at www.ChrisHillman.com and read much more ab out Chris Hillman.
Herb Pedersen began his musical career playing 5 string banjo and guitar for David Nelson, Jerry Garcia and David Grisman. He has added his talents to records by Dan Fogelberg, Linda Ronstadt, EmmyLou Harris, John Denver, James Taylor, Vince Gill, Gordon Lightfoot and others. There is just so much more to his talents.
SOLD OUT ! ! !
---