---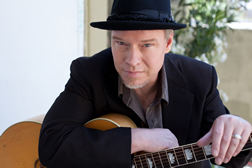 Shawn Mullins - Postponed - New Date TBD
Shawn Mullins. You know him for his songs, "Lullaby" and "Shimmer" but he is now out with a new CD called, "Soul's Core Revival" that is actually 2 CD's with different arrangements. One done with just him on guitar or piano and the other done with his full band. This CD is certainly one for your collection.

As in the past times Shawn has performed here, you know he has always been a favorite of the series. Tickets for this great show will go on sale on Saturday, Feb. 1st at 12 noon. It will be Reserved Seating and seating will be assigned in the order of purchase. We have to do it this way as we don't have access to Hedback Theater's seating software so we do it the old fashioned way. Don't worry as every seat is a great seat.

Learn more about Shawn at his web site www.ShawnMullins.com.
Click here for ticket information.
Click here for show time and location